EFM Distribution

"A national haulier with a can do attitude"
EFM has over 16 years' experience in the transport sector as a haulier and distributor, based in Northampton.  Founded in 2005 by Managing Director, Phil Minney, EFM are still a family owned and operated business. Starting with a single tractor unit, the operation has seen amazing growth and we now operate a fleet of over 25 vehicles ranging from our smallest, a 3.5T curtain sider, right up to our largest 44T articulated vehicles. All our rigid vehicles are equipped with pump trucks and tail lifts. In addition to this fleet, we have recently added an M5 Moffett.
The company has been built around a
'can do'

attitude. We always strive to ensure that our customers' needs are not only met but exceeded.

 
From our fantastic centrally located depot, we have quick and easy access to all the countries major arterial routes, giving our customers confidence in our ability to expedite their loads promptly and efficiently. 
Our Vision, Mission and Values
EFM Distribution's success is built on our reputation for delivering a first-class service to our clients, with honesty and integrity. Our team is totally committed to providing a top-quality service from start to finish. We pride ourselves on going the extra mile to fulfil our customer's requirements.
As a family run business, we have the flexibility to create bespoke packages for all our customers, big and small.
Phil Minney
Managing Director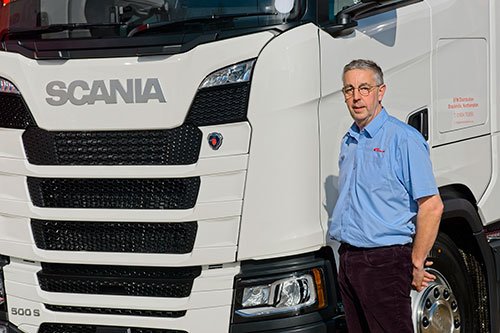 THE

EFM DISTRIBUTION

TEAM
Phil Minney
Managing Director 
Phil Minney started the business in 2005 as an owner / operator and has established a strong and profitable business over this time. He has a passion for all things transport, and with his experience and knowledge, he is an expert in the industry.
Craig Minney
Operations Director
Craig Minney is the eldest son of Phil and the longest serving member at EFM after him. He has been involved in the business since his youth, working his way up from cleaning the lorries through to his current role as Operations Director. Craig is integral to the EFM operation and ensures that the high standards he sets are maintained throughout the business.
Jessica Minney
Office Manager
Jess Minney has an excellent insight, having been brought up around the family business. From customer services, to transport planning Jess has a wealth of knowledge and with the EFM 'can do' attitude she keeps the business running successfully and efficiently.
Matt Woodroof
General Transport Planner
Matt or "Woody" to his colleagues has been with the business for a number of years and has an outstanding background in the transport industry. Having worked for some of the biggest names in the industry he has a huge amount of experience to call upon and his colleagues and customers can always rely on him getting the job done.
Harry Price
Palletline Transport Planner
Harry Price comes from a family background within the transport industry. He has developed a great understanding of the business and his role as Palletline Transport Planner. He is real asset to the company and is always willing to go the extra mile. 
Rob Cutting
Commercial Manager
Rob Cutting has had a 20+ year career in sales and marketing across a variety of industries and  joined EFM to assist us in achieving our ambitious goals.  With a strong analytical background and a proven track record for developing business we look forward to growing together.
Rachel Meakin

Customer Services
Rachel joined EFM having previously worked for many years in the education industry. With a strong background in customer services, business management and organisation, Rachel is excellent in her role and a highly valued member of the team. 
Michael Barker has over 18 years' experience in Accounts and is a great fit with EFM team. He is responsible for all of the daily accountancy tasks, from book keeping through to credit control and P & L preparation and understands everything finance related.
Sam Nuttall
Warehouse Supervisor
Sam Nuttall has been with the business for many years and in the industry for even longer. He oversees all the warehouse and yard operations, from Goods in and scanning, to Pick and Pack operations. Sam encourages his team to strive for excellence so that EFM can offer our customers the best possible service.
Natalia Grabowska
Despatch Supervisor
The most recent addition to the EFM family. Responsible for organising all aspects of despatch for Palletline, having had a career in logistics for many years Natalia comes with a wealth of experience that ensures pallets are loaded for their onward destinations and that the customer expectations are met.